"I am not religious," she told me. "For me, Christ, Mohammed, it makes no difference. But I came here in search of some higher moral authority — a vision — that Communism never offered us in Bulgaria"

— from Balkan Ghosts: A Journey Through History by Robert D. Kaplan
Bulgarian History
There's a spirituality about Bulgaria evident in the Orthodox monasteries and churches, many tucked away high in the Balkan mountains. The Balkans have a turbulent and multi-cultural history, with Bulgaria having been occupied by the Byzantine Empire, the Ottoman Empire, Russia, and Nazi Germany. Turkey ruled for 500 years. Forty five years of Communist rule ended relatively recently, in 1989.
The early history of Bulgaria began with the emigration of the Bulgars, a tribe from Central Asia. Around 680 AD, 250,000 Bulgars crossed the Danube River into what is now Bulgaria. There they interbred with the Slavs who had arrived 150 years earlier. In 865, Bulgaria became the first of the Slav people to embrace Christianity. The churches and monasteries they built are one of the highlights of this beautiful country.
Bulgaria Cycling Tour
My own Bulgarian journey began at the airport in Sofia. Having traveled quite a bit in the past 18 months, I've become accustomed to the attitude of the bureaucrats at Immigration counters. Bored, disinterested, occasionally suspicious. So when the official at Sofia airport asked me what I was doing in Bulgaria, I wasn't prepared for the genuine interest he seemed to take in my response. "Bicycle? Really? What kind of bicycle you have?"
I had signed up for a cycling trip that Penguin Travel calls, "Balkan Mountains Cycle." An 8 day trip with 6 days of "moderate to challenging" cycling in the Balkan Mountains of Bulgaria. Friends I had met on a cycling tour of Hokkaido two years before had organized the trip and at the last minute I decided to join them. I'll admit, I knew little to nothing about the country before signing up and reading Robert Kaplan's book, Balkan Ghosts: A Journey Through History. A combination of travelogue and historical text, it's recommended for those interested in the region.
Arriving at night, it was difficult to get a sense of the city. One of our guides, Zlatna, drove me to my hotel. Zlatna shared a little bit of the history and culture of her country while filling me in on the details of the upcoming tour. I arrived at the hotel after midnight. Everyone else was asleep but my friends had been thoughtful enough to leave me a half bottle of Bulgarian wine, Minkov Brothers aptly named "Cycle." A good way to relax after my flight before going to sleep.
The next morning, I greeted old friends and met new ones. After a hearty breakfast, we adjusted our bikes and were on our way. It took some time to get used to the heavy steel hybrid bike with front fork. But as would become evident rather quickly, the bike was well-suited to the terrain.
Monasteries
The monasteries were definitely the highlight of the tour. On the first day of riding, we visited the Glozhene Monastery. Our steep climb was rewarded by breathtaking scenery from the Eastern Orthodox monastery, founded in the 13th century with a modern church constructed in 1951. The monastery grounds was the first place I noticed Martenitsa. Composed of two small wool dolls, they are tied to the branch of a fruit tree, giving the tree health and luck.
Mineral Springs are an important part of Bulgarian history and culture. Many were discovered and developed centuries ago and provided the water source for the establishment of towns. We saw springs everywhere. In parks and at monasteries. Along the side of the road, where drivers would stop and fill jugs with the cool water. Many are said to have medicinal value, used for the treatment of cardiovascular and neurological diseases. We filled our water bottles wherever we came across one. Just in case.
Food And Drink
After a long day of hill-climbing, nothing beats a hot shower and a good meal. After a few drinks of course. It was a good way to unwind and get to know the other cyclists in the group. We were ten cyclists in all, from the U.S., Wales, Norway, Russia and Japan. In addition to our two Bulgarian guides. It was an opportunity to learn a lot about each others' cultures as well as Bulgaria.
Bulgarian food draws from Greek and Turkish influences. The most popular dish among our group was Shopska salad, made of tomato, cucumber and cheese. You'll also find moussaka (musaka), filo pastries (byurek) and stuffed vine leaves (sarmi) as well as Greek yogurt.
I was surprised to learn that winemaking has been a large part of Bulgarian culture for millennia. In fact, Bulgaria was the second largest producer of wine in the world as recently at the 1980s. Fertile soils and geographic latitude similar to central Italy or southern France provide the perfect vine growing conditions throughout the country. We enjoyed several good, inexpensive wines, including varietals you probably won't find elsewhere, such as Mavrud and Melnik. For beer, the common local brands were Zagorka and Kamenitza. Both lagers with a clean finish.
Another popular drink among our group was Rakija. Pronounced rakiya, it's a fruit brandy popular in the Balkans. It was available everywhere we went and ordering it always brought a smile to the waiter's face. The taste is somewhere between a smooth vodka and a nice brandy. At 40% alcohol, we had to limit our intake if we were going to tackle more hills the next day.
Animals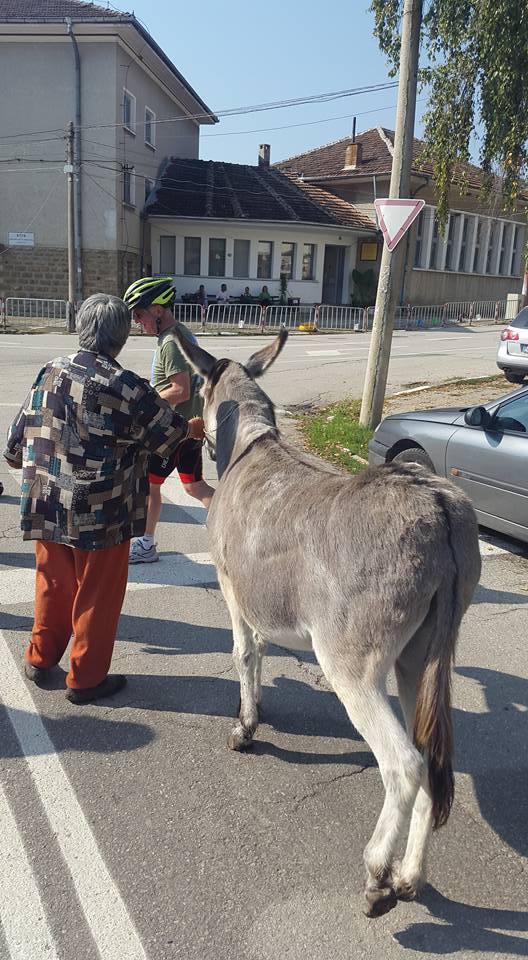 Bulgaria is definitely a cat country. There were strays everywhere, especially in and around the churches and monasteries. They seemed to be tolerated by the local people, though they were occasionally chased away in a half-hearted fashion. In some of the smaller villages, we saw stray dogs begging for food outside the market. They were grateful for the scraps we gave them.
It was also common to see herds of goats or sheep crossing the highway. And much like in Cuba, we passed many carts pulled by horse or donkey, often with an entire family crowded into the back.
The Ride
For the curious, I recorded every day of the ride on Strava (see below). In six days of riding, we covered 238 miles with 25,743 feet of climbing on a heavy, steel-framed bicycle. The condition of the roads varied considerably but it was best to assume the worst when screaming downhill. There were a few times where I hit an unexpected pothole and that front fork saved me from toppling over the handlebars.
The ride was a lot of climbing and descents. Like most cyclists, I love the downhills but I had to reign in my speed a bit due to the road conditions. Coming down from the Glozhene Monastery and toward the village of Glozhene, the road was windy and narrow with potholes and loose sand. Just for fun, I was trying to keep up with the support van ahead, but trying a little too hard as it turned out. On a single lane pass, our guide stopped suddenly when a car approached in the opposite direction. I gripped the brakes hard, going into a skid, letting up just enough not to lose control but getting closer and closer to the rear bumper in front of me. Luckily, she jerked forward suddenly when the other driver gave her the right of way and I was able to avoid an embarrassing accident.
The scenery on the ride was beautiful. Bulgaria is the world's largest exporter of sunflowers and we rode past miles of them, neatly planted in long fields. At higher elevations, we cycled past poplars, cypresses and firs as well as the occasional apple and plum tree. The plums are not the usual variety we find in American grocery stores but I recognized them immediately as Damson plums. As a kid, we had a small orchard of about a dozen fruit trees, among them this small, oblong plum. In its prime, the tree produced thousands of plums each year. We would eat what we could but the rest inevitably rotted on the ground. The smell of these rotting plums was much like the smell of Slivovitz, a fruit brandy made from Damson plums, popular in Bulgaria.
Our Destination: Plovdiv
After six days of cycling, we arrived at our final destination: Plovdiv. The second-largest city in Bulgaria, it has a population of close to 350,000. With a history spanning 6,000 years, it is among the world's oldest cities.
After a tour of the city center and its views of the surrounding hills, we stopped by a nice restaurant for a celebratory lunch. We turned a lot of heads in our cycling gear. Not your typical tourists.
We spent the night in Pravdiv and then went our separate ways in the morning. Back to our respective countries. I left Bulgaria with a new appreciation for a part of the world I knew little about, a list of wines to search for at my local wine shop, and new friends to join me on the next tour.
The Details
For the cyclists, I've included links to the details of each day's ride.